CAFÉ RACER, STREETFIGHTER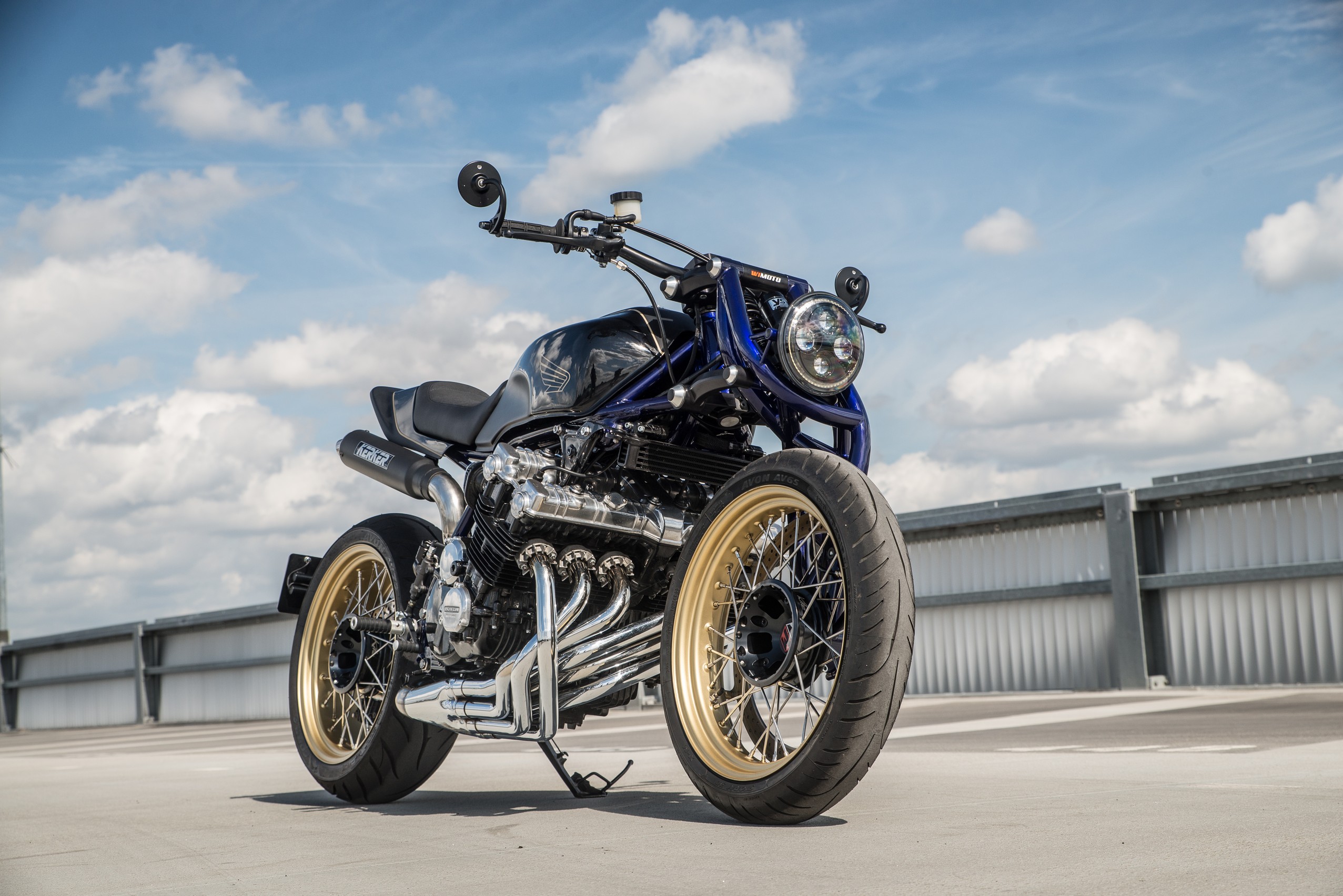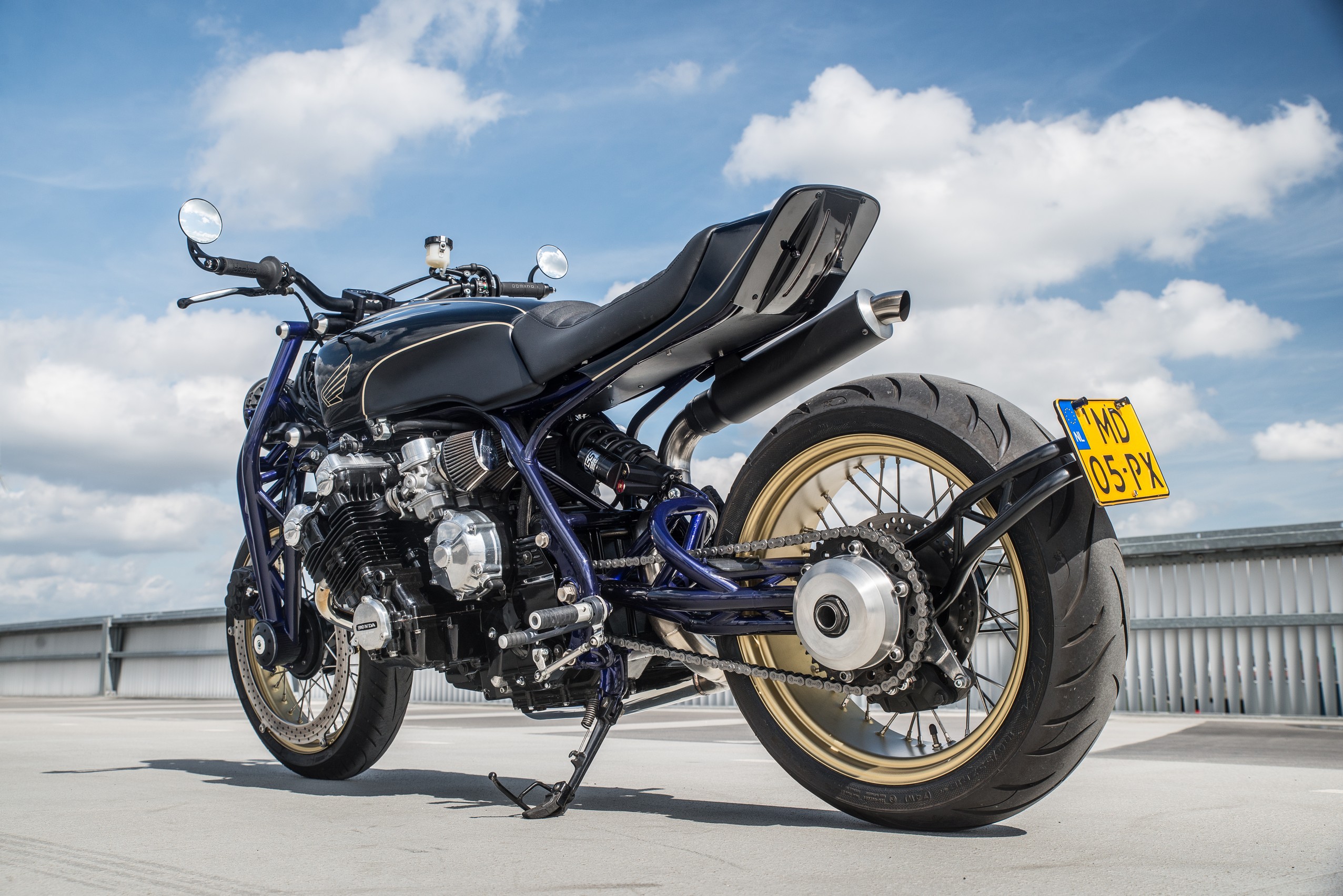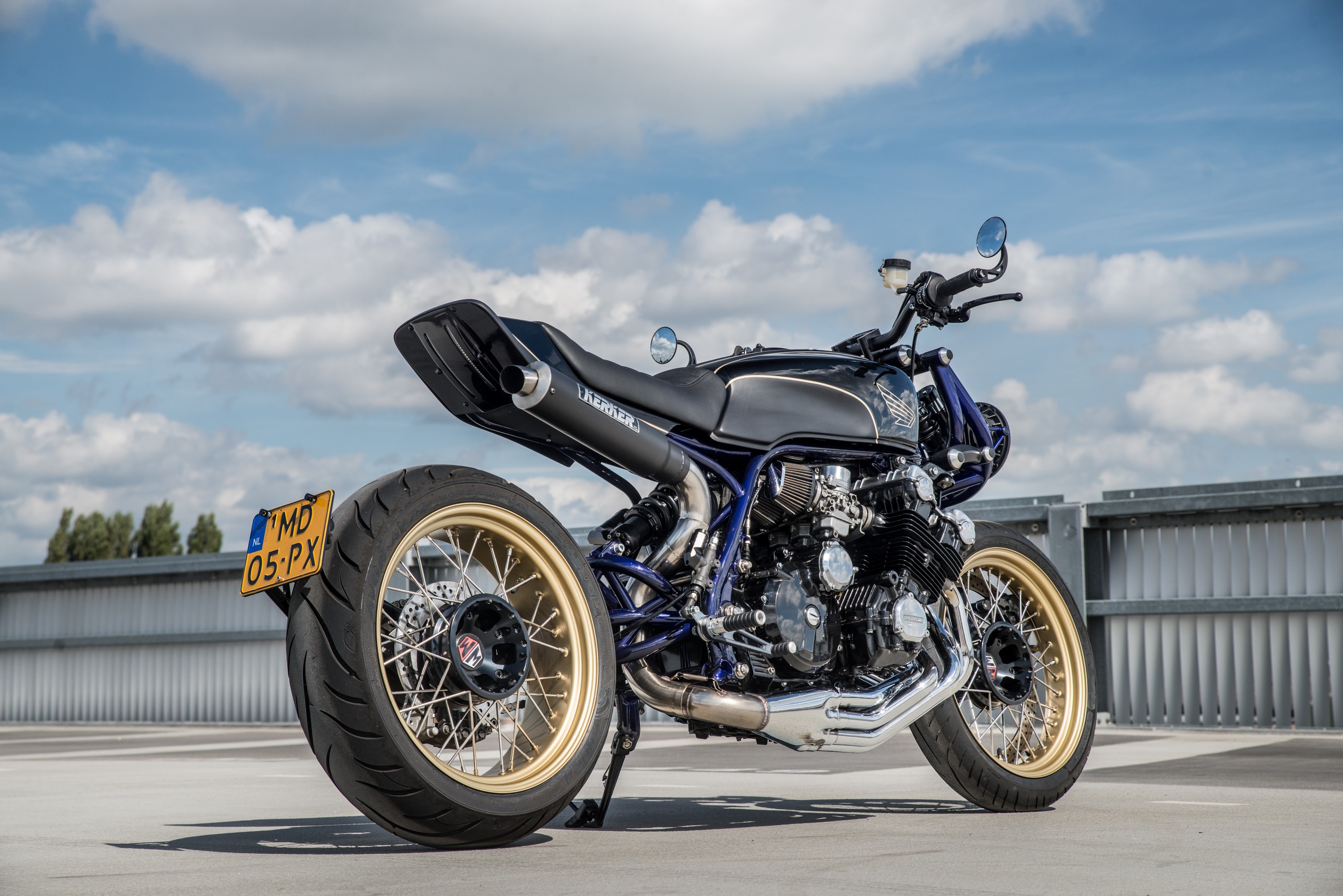 Challenge
Reinoud Tjallema (owner of Caferacerwebshop.com, by Motorcycles United) and a good friend of WiMoto, bought this CBX a few years ago. He bought it from a friend's father, who was diagnosed with terminal cancer. This man didn't want to leave the CBX to just someone unfamiliar. He already put a lot of love and money in the bike to modify it to his taste.  When Reinoud bought the bike, he made the promise that he would look after it and would never sell it again…. Now a few years later (the bike was rebuild in 2001) Reinoud loved the engine, but the rest wasn't really his taste. He wanted to do something crazy with it, and because he promised it would never leave his shed again, he decided to modify it to his own taste! And that's when he came to.… @WiMoto.
Initial idea….
Reinoud had this crazy idea of building something with 2 single side mounted wheels. So he asked me if this was possible? Uhm…..Of course, anything is possible but this takes quite some engineering. Especially because it needed to be a road bike, not only a show bike. He wanted to be able to take it for a spin and enjoy the amazing sound of the CBX engine.
Design 
We always start with measuring the original bike. For the purists, this CBX had already been modified, so we didn't chop up an original bike! The previous rebuild was done in a style that was quite outdated. Also the geometry of the bike was far from wat it should be. So after setting the right geometry we started with  designing the 3d model using Solidworks CAD software.
Frame
The original frame of the Honda CBX is not known for its strength and stiffness, especially with the super fragile front fork, high speed corners are only for riders with a big heart!
Because this build needed two single side mounted wheels, the frame needed some serious reinforcement. The challenge was to keep this out of site, and this is done under the gas tank.  Several extra chromoly tubes are welded in, creating some extra triangles to increase torsional stiffness and improve handling.
Front fork
The front fork was made inhouse at WiMoto using chromoly tubing. The geometry of front  suspension was engineered using Tony Foale "Funny Front End" suspension software.
Swingarm
We designed a new chromoly swingarm. We always like to combine organic tubes with triangular geometry to get the desired stiffness. The geometry of the rear suspension was engineered using Tony Foale's suspension software. The eccentric wheel bearing comes from a Honda VFR750.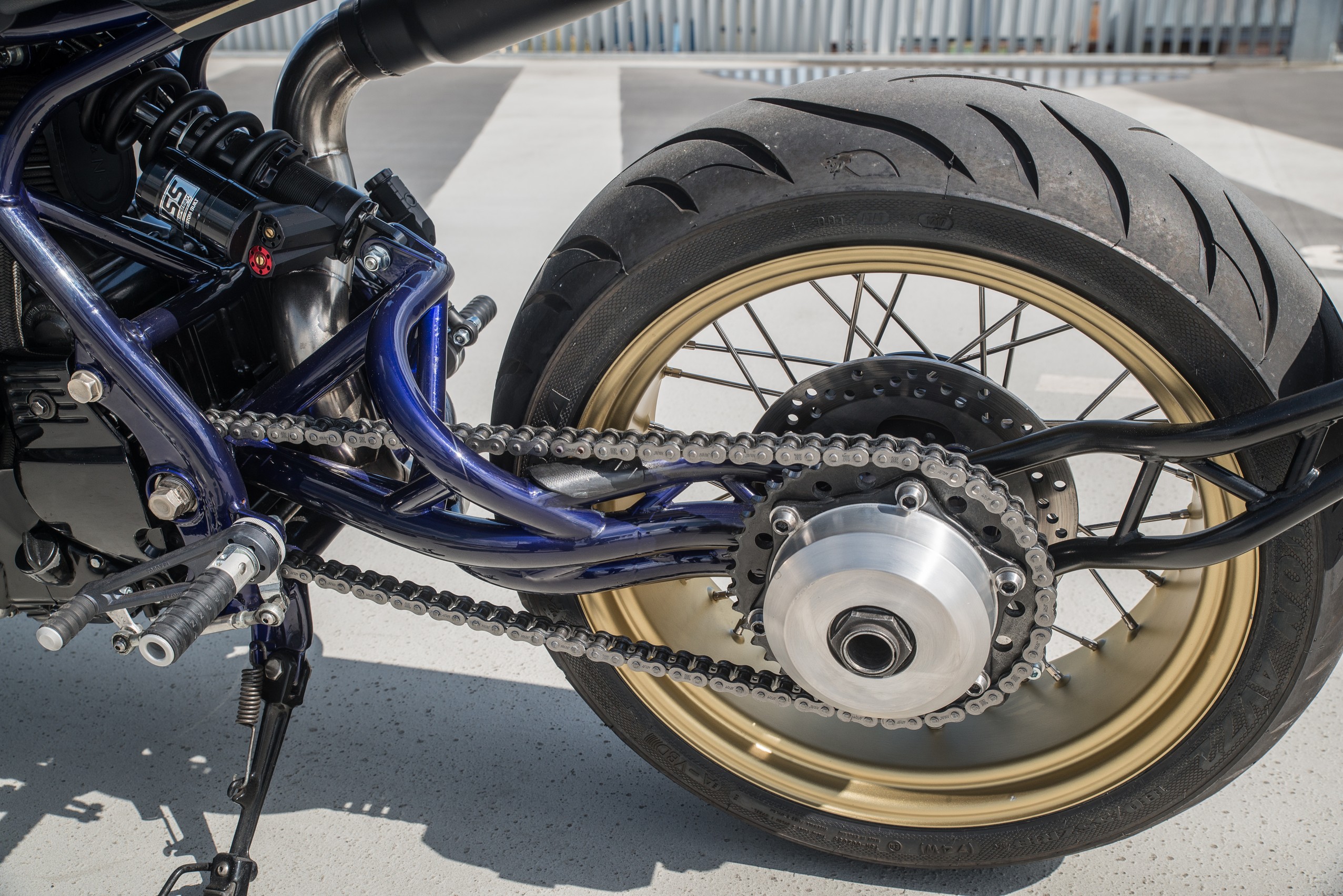 Front suspension
To build a single sided front we decided to go for a rather old-school girder set-up. But we did gave it a little twist into the 21st century.  New wishbones were designed, with needle bearings to make sure everything moves smoothly. The top and bottom yoke were designed with integrated Motogadget gage. The handle bar clamp is bolted from below to keep a clean looking cockpit.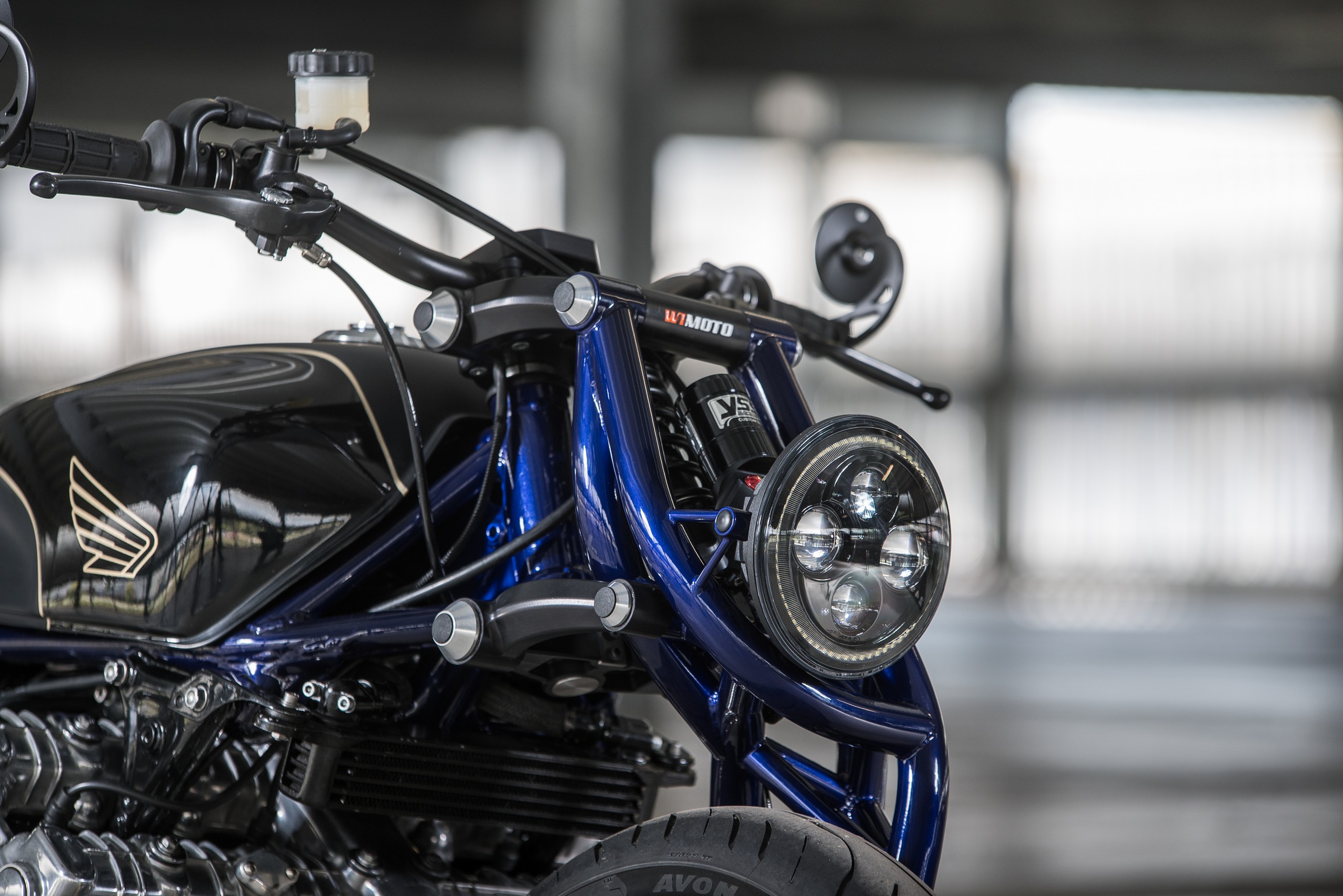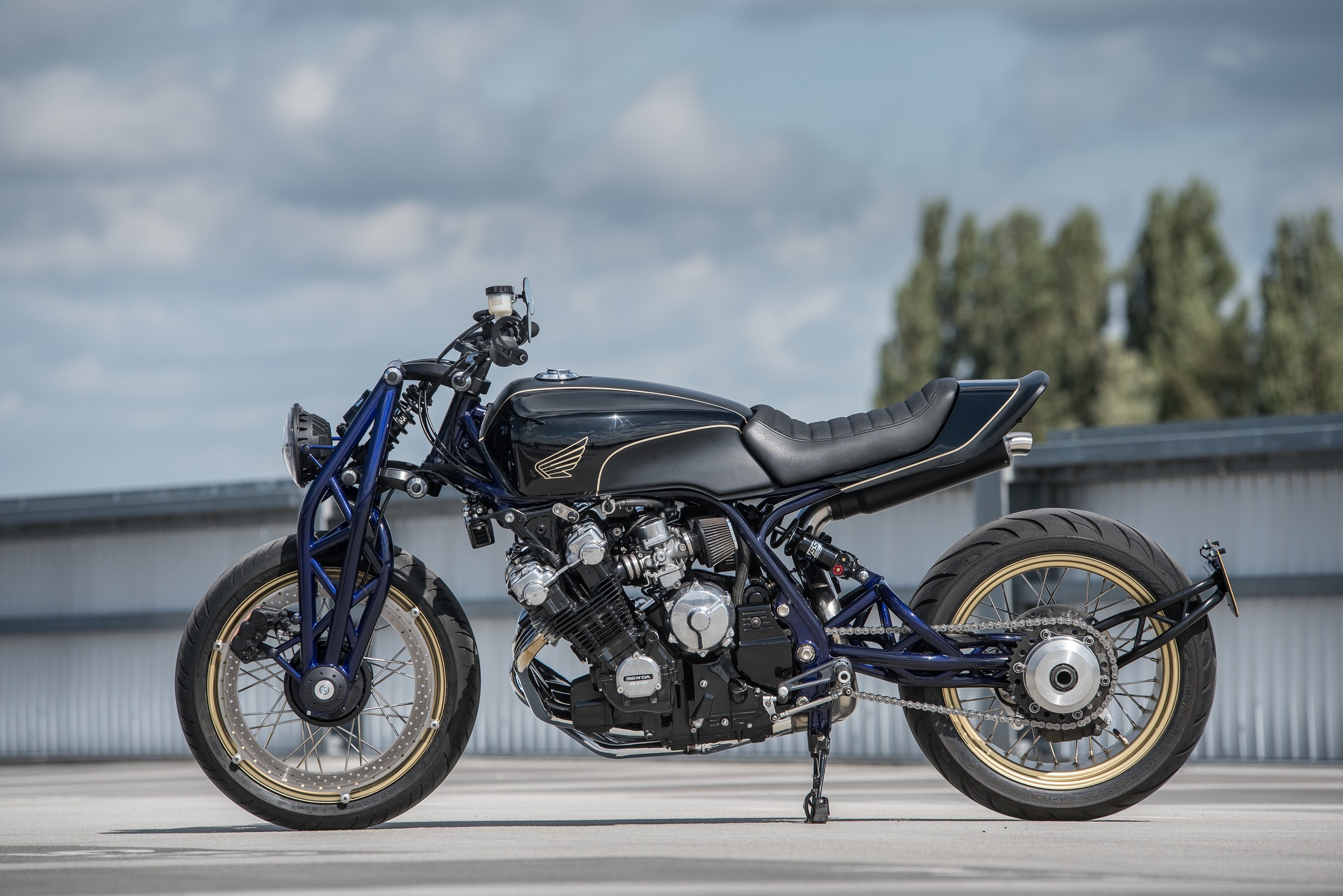 Drive Experience
This bike might look like a show bike, but that has never been the intention. This bike is designed to be ridden. And although the bike is quite heavy it feels very nimble. It handles smoothly and is easy to flip from side to side in corners. Because the front fork is really stiff it gives perfect feedback trough the handlebars, that's why you gain a lot of trust in the bike. It feels familiar from the moment you get on. It actually encourages you to twist the throttle, also because the engine sound is highly addictive! Everywhere you go, you'll get thumps up, which makes driving this CBX an absolute joy!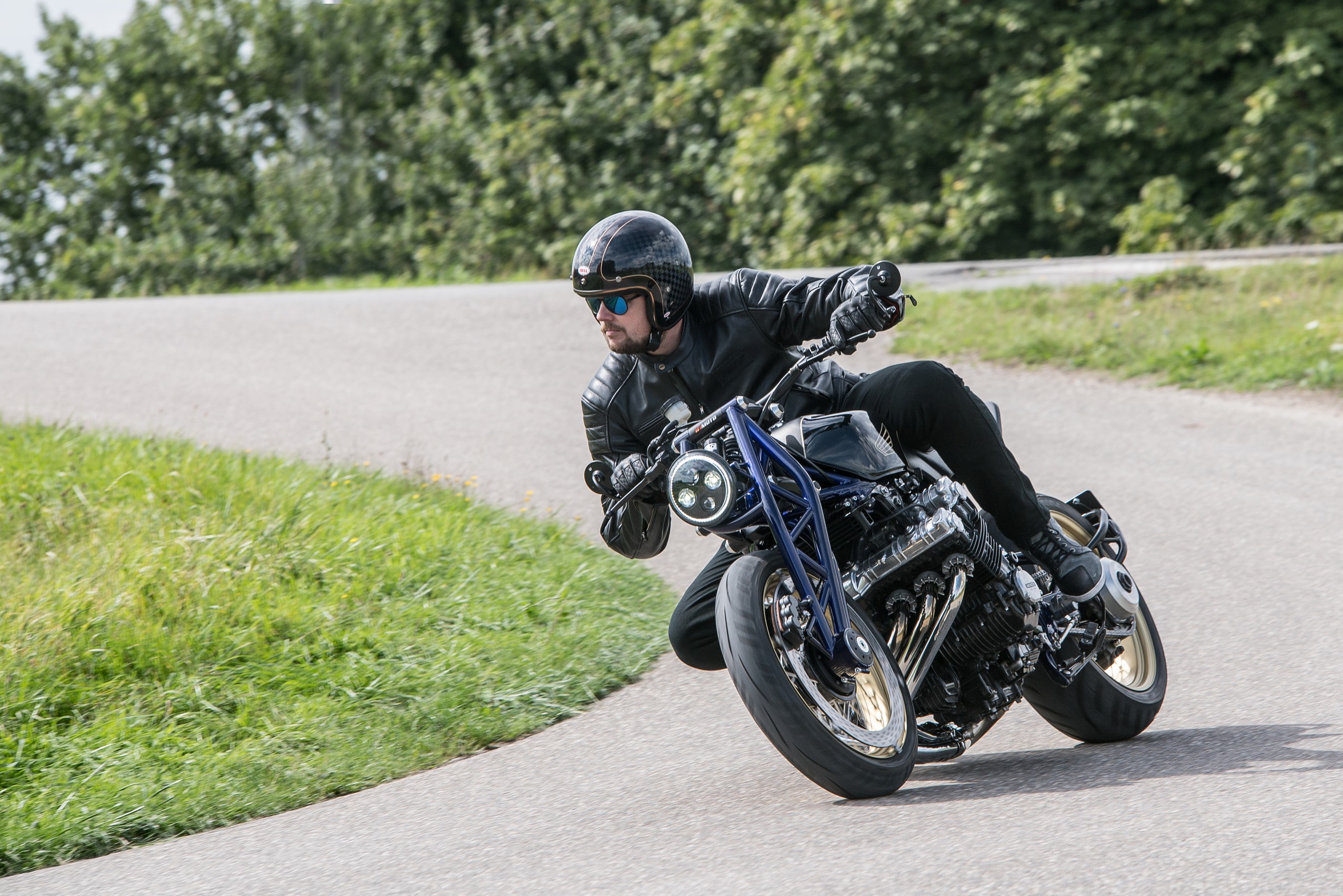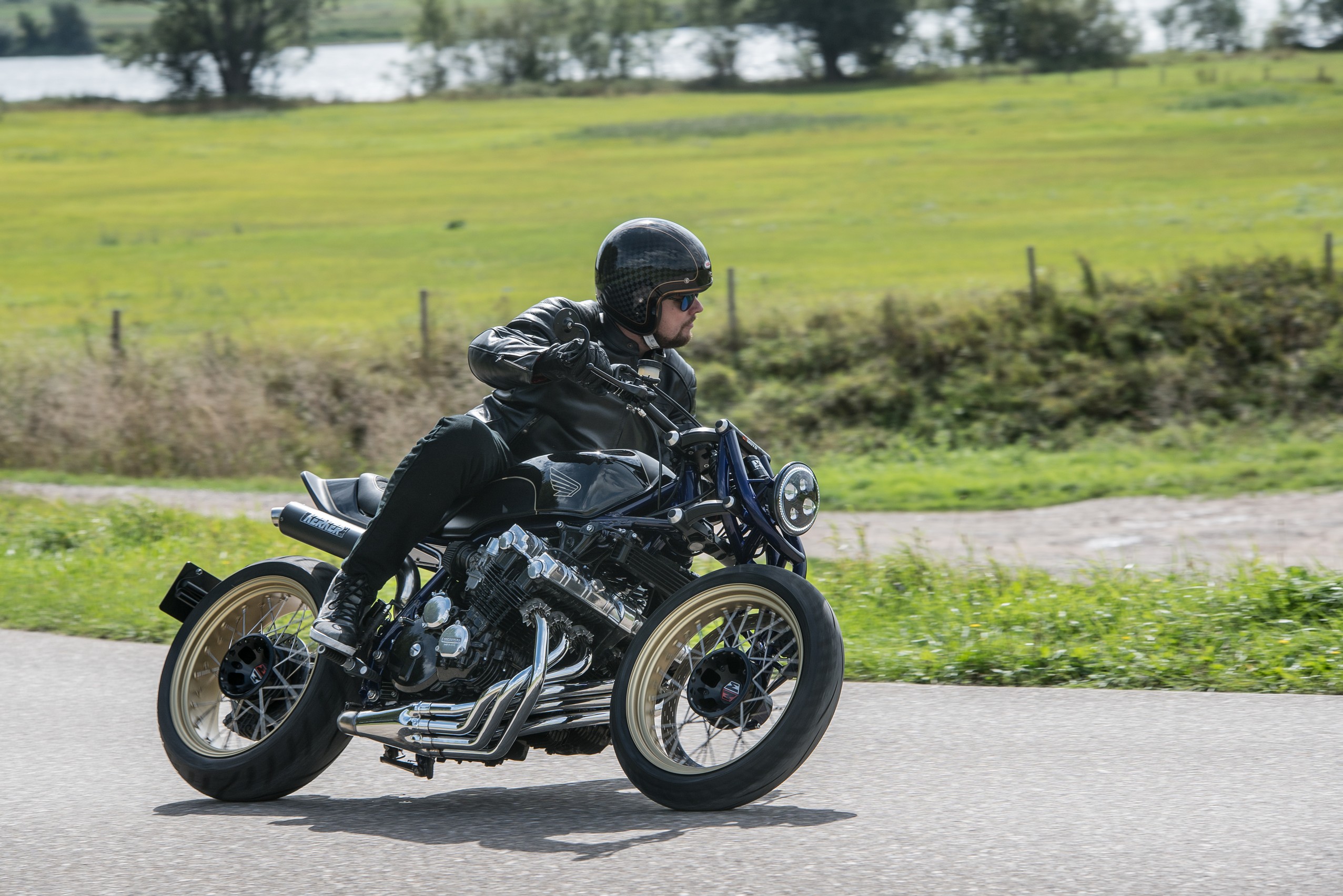 WiMoto CBX 1000 Specs
Frame
We modified the original Honda frame.
Front fork
WiMoto custom 25crmo4 tubing
Swingarm
WiMoto custom 25crmo4 tubing
yoke, wishbones
WiMoto custom design, milled out billet aluminum by CS Metaalbewerking
Suspension
YSS suspension custom build race shocks.
Front brake
The caliper belongs to a Buell XB12, the front Disc is a custom made 440mm disc mounted to the rim.
Rear Brake
Used of a VFR750
Exhaust
Kerker system, modified by WiMoto.
Wheels
JSR-service provides us with custom 18inch wheels. The hubs are from a BMW gs1200. The Rims are stainless steel. The front rim is modified by WiMoto to house the massive custom 440mm brake disc.
Tires
Avon Cobra tires  front 120x70x18 , rear 180x55x18
Seat
Build inhouse at WiMoto, upholstery is done by our friends at Tijger Leathers.
Tailsection
A Honda bol d'or tail section has been narrowed and chopped. The undertail is made inhouse at WiMoto.
Electrical
Completely new wiring done inhouse at Wimoto using Motogadget M-unit Blue.
All other parts
Parts like chain, sprockets, handlebars, electrical parts, brakes, foot pegs, lights, etc…. al supplied by Motorcycles United.
Finish of the bike
Powder coating
The frame and wheels were powder coated by our friends at TH-poedercoaten.
Paint job
SMP Creative delivered an awesome 2 tone paintjob
Outfit on the photos
RST & Bell provided us with a complete outfit, jacket, paints, shoes, gloves and helmet. Now we were able to safely shoot some decent action photos of this build.
Photos
Special thanks to Floris Velthuis photografie for shooting some awesome pics.